The SEB type SLIDE GUIDE consists of a rail with precisely machined raceway grooves and a block assembly consisting of the main body, return caps and ball elements.
Retained Ball
Because of the ball retainers, the SEBS-B type is able to be removed from the guide rail, simplifying its installation and resulting in lower assembly costs.
All Stainless Steel Type
By using stainless steel for the return caps, the SEBS-BM type is made of all stainless steel components, making it the ideal choice for special environments such as high temperature, clean room, or vacuum applications.
Moment Resistant
A wide block (WB/WA) type, a long block (BY/AY) type, and a wide/long block (WBY/WAY) type are moment resistant slide guide types. The most suitable type can be selected for any demanding operating condition.
Tapped Hole Rail Type
For the SEB rails, counterbore (standard) and optional tapped hole (N) types are available enabling various installation methods.
Compact Design
SEB type has a 2-row, 4-point contact structure. This structure minimizes the installation height, which contributes to light-weight and miniaturization of machinery and equipment.
AD Profile
AD profile dissipates guide block deformation caused by installation.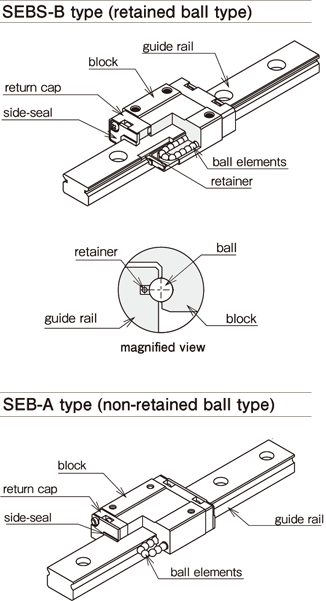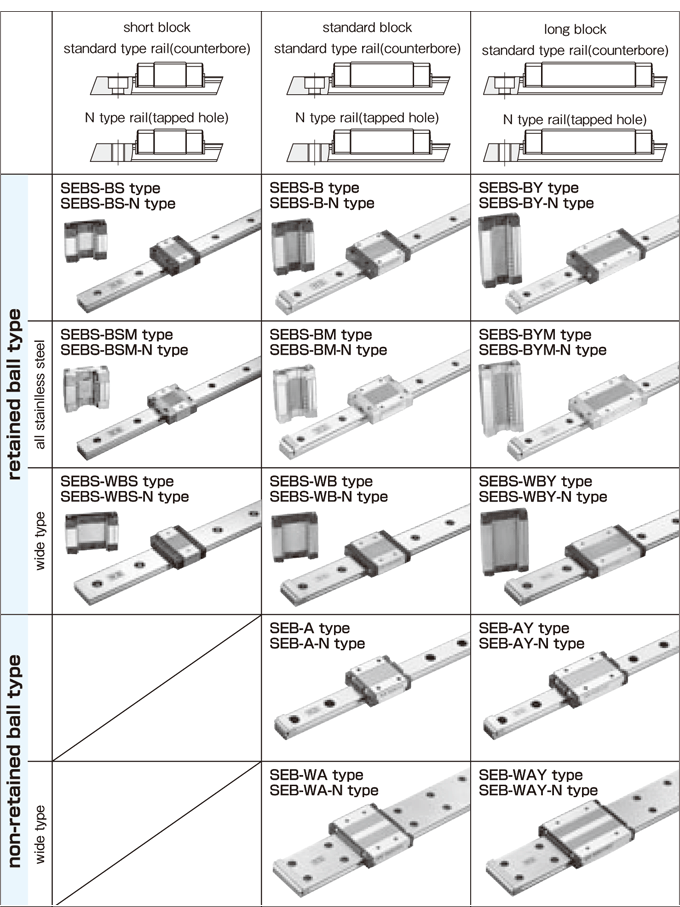 ※The SEB(S) type slide guides are categorized according to their block shape and the rail installation method.