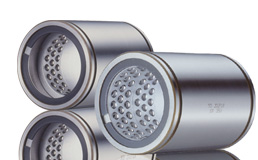 STROKE BUSH・SLIDE ROTARY BUSH
STROKE BUSH
The NB STROKE BUSH is a linear and rotational motion mechanism utilizing the rotational motion of ball elements between an outer cylinder and a shaft. It is compact and can withstand high loading. The retainer is made of a light metal alloy with high wear resistance. Smooth motion is achieved under high-speed and high-acceleration conditions. Although the linear motion is limited to a specific stroke length, the combined rotation and stroke motion is achieved with very little frictional resistance. The NB STROKE BUSH can be conveniently used in a variety of applications.
The retainer in the NB STROKE BUSH positions the ball elements in a zigzag arrangement.
The inner surface of the outer cylinder is finished by precision grinding, resulting in smooth motion of the ball elements. Each of the ball elements is held in a separate hole and smooth motion is achieved for both rotational motion and linear motion. The retainer moves half the length of the linear motion, therefore, the stroke length is limited to approximately twice the length the retainer can travel within the outer cylinder. The actual stroke should be limited to 80% of the maximum stroke as listed in the dimension tables.
High Precision
High-carbon chromium bearing steel is used for the outer cylinder. It is heat treated and ground to achieve high rigidity and accuracy.
Light Weight and Space Saving
The use of an aluminum alloy for the retainer and the thin-wall outer cylinder makes the NB STROKE BUSH light weight and compact.
Ease of Mounting and Replacement
The highly accurate fabrication of the NB STROKE BUSH results in uniform dimensions, facilitating parts replacement and housing fabrication.
Lubrication
One lubrication hole is provided on each oil groove of the outer cylinder, making it easy to lubricate the SR STROKE BUSH.
Structure of SR STROKE BUSH