LINER BUSHING
SLIDE BUSH
The NB SLIDE BUSH is a linear motion mechanism utilizing the rolling motion of balls. It is used in a wide range of applications such as conveyor equipment, food processing machinery and semiconductor manufacturing equipment, because it provides low-friction linear motion with a simple mechanism.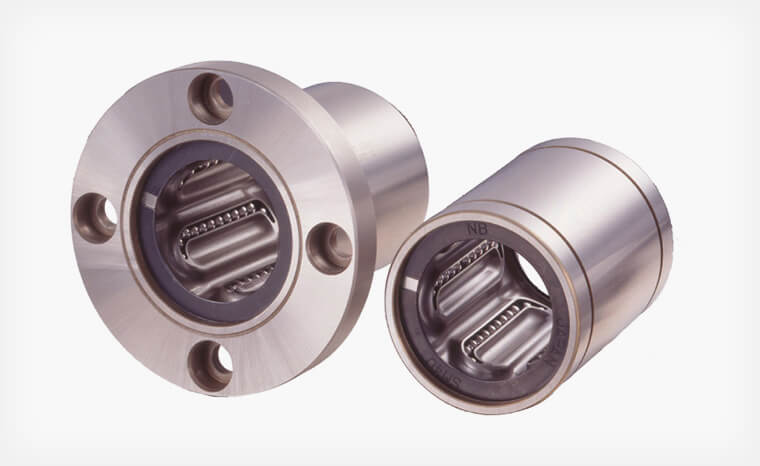 Features
The NB SLIDE BUSH incorporates a retainer in a cylindrical outer sleeve and the guiding portion of the retainer is designed and fabricated to allow smooth ball recirculation, enabling smooth linear motion.
Compact mechanism with efficient use of space
The NB SLIDE BUSH uses a round shaft as a guideway, allowing effective use of space and making it suitable for compact mechanism design.
Various shapes and mounting methods
NB SLIDE BUSH is available in a wide variety of shapes, including standard, clearance-adjustable, open, and flanged types, to accommodate all types of applications.
Can be selected according to the environment
NB slide bushings are available in standard and corrosion-resistant specifications, and standardized retainers are also available in steel, which is resistant to adverse conditions, and low-noise, inexpensive resin, from which combinations can be selected to suit the operating conditions.
Compatibility
NB slide bushings are fully interchangeable and can be used in random combinations with shafts.
Low friction
The transfer surface is precision ground to a smooth finish, and the small contact area between the ball and transfer surface results in lower friction compared to other linear motion mechanisms.
GM Series
Compared to the SM type, the mass is reduced by 50 to 30%. The ball return section is made entirely of resin, resulting in quiet operation. The new slide bushings meet the demands of the low-cost era and expand the applications of slide bushings.
Block Series
In the block series, slide bushings are built into the housing, and the block shape can be selected according to the installation. Precision-machined blocks help increase the precision of machines and equipment, resin blocks help reduce weight and cost, and commercial units help reduce costs and design time.
FIT Series
By adjusting the radial clearance between the NB slide bushing and slide shaft through precision grinding, the NB slide bushing and slide shaft can achieve smooth linear motion with minimal rattling.
Structure of slide bush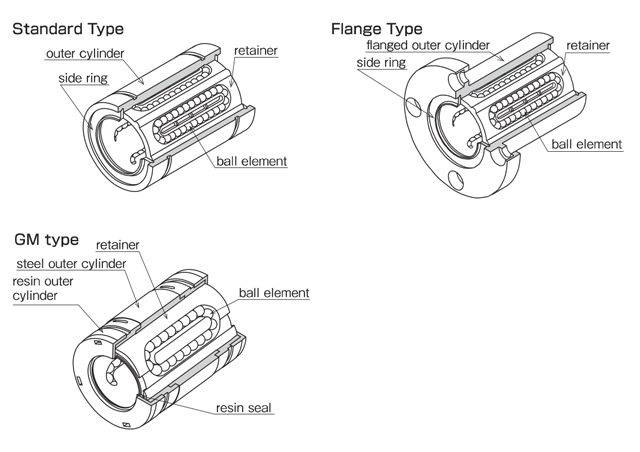 Type
Type of Slide Bush Outer Cylinder
The NB SLIDE BUSH is available in a variety of outer sleeve styles to suit your application. All outer cylinders come standard with seals.
Form 1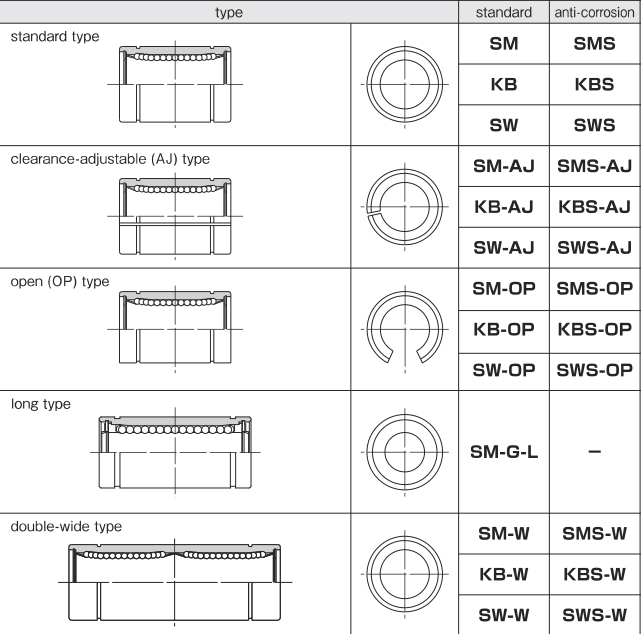 Form 2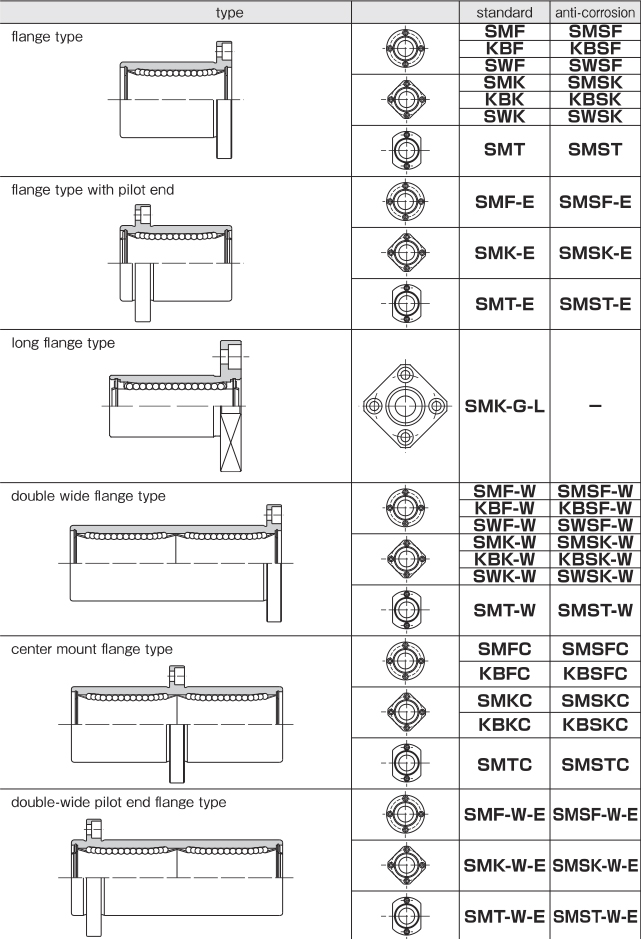 Form 3