New line up to STUDROLLER system NV/NVT type!
Anti-corrosion NVS/NVTS well suited to clean room application!
The STUDROLLER system is based on a new concept to provide prevention of roller cage slippage. This system enables "anti-cage-creep" during operation, making them ideal for use in vertical or high speed application.

Structure of NVS type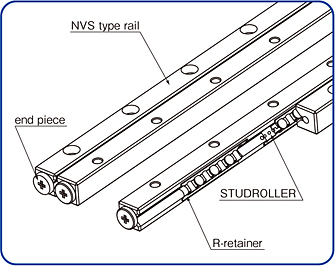 The NVS type utilizes stainless steel rails and resin retainers, which is suitable for anti-corrosion requirements.
Structure of NVTS type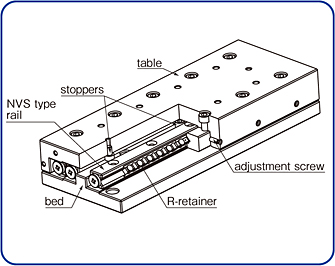 The NVTS type utilizes NVS type Slide Way between aluminum table and aluminum bed.
APPLICABLE PART NUMBER
| | | |
| --- | --- | --- |
| NVS2 | NVS3 | NVS4 |
| NVTS2 | NVTS3 | NVTS4 |
※Please refer to NB general catalog for details.
PART NUMBER STRUCTURE