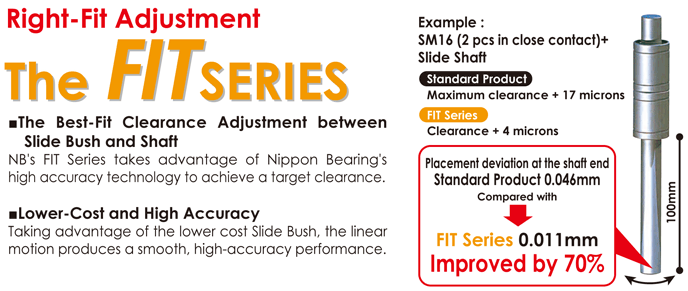 Have you ever experienced?
difficulty in matching fit?
Due to the combined tolerances of the bush's bore and the shaft's diameter, accuracy can be affected by 'clearance' or increased dynamic friction caused by preloading.
obtaining the proper fit?
In some extreme cases, designs have been sacrificed over to other 'types' of linear products to prevent excessive radial clearance or preload resulting in higher production component costs.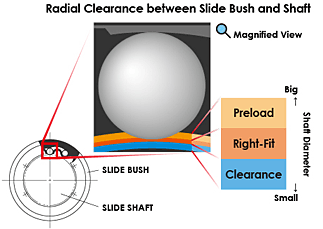 Please refer to the appropriate catalog page for details.
Please specify on the drawing about the shaft machining, radial clearance, match-marking, etc.
Depending on the application the range varies. The chart below is a guideline.

Negative clearance is opted to reduce backlash. Please refer to the below chart for the recommended
negative clearance (preload) limit.
| | | | | | | |
| --- | --- | --- | --- | --- | --- | --- |
| Size | 3~8 | 10~13 | 16~25 | 30~35 | 40 | 50~60 |
| Radial Clearance Limit | -3μm | -4μm | -6μm | -8μm | -10μm | -13μm |
The off-center of the housing causes uneven loading on the Slide Bush. Please pay special attention to the centering of the housing especially when negative clearance is required
Please contact NB for details on the radial clearance such as when extra preload is required for other part numbers like SRE, SR, etc.